Alien Foods and Plants!
December 27, 2022
Originally posted to Tumblr on December 19, 2022.
Another crosspost from Tumblr, this one talks about some of the foods and plants that can be found on planets Azmorfa, Yoello, and Osmos! These next few days leading up to the 31st I'm gonna be crossposting stuff from Tumblr!
Right now Tumblr is my main place for posting, as I've basically stopped posting to Twitter. It's nice that I can post something at any time and not feel anxious about whether it'll be seen or not. After posting to only Twitter for so long, having this ability feels freeing. Didn't give Tumblr enough credit when I was previously active there as a teen.
In addition I'm also thinking of creating a sketchbook gallery, separate from my main gallery that has all of my finished work...I'm not entirely sure how I want to go about it, but I know I wanna create something so that my doodles/sketches aren't completely lost in this blog, haha
---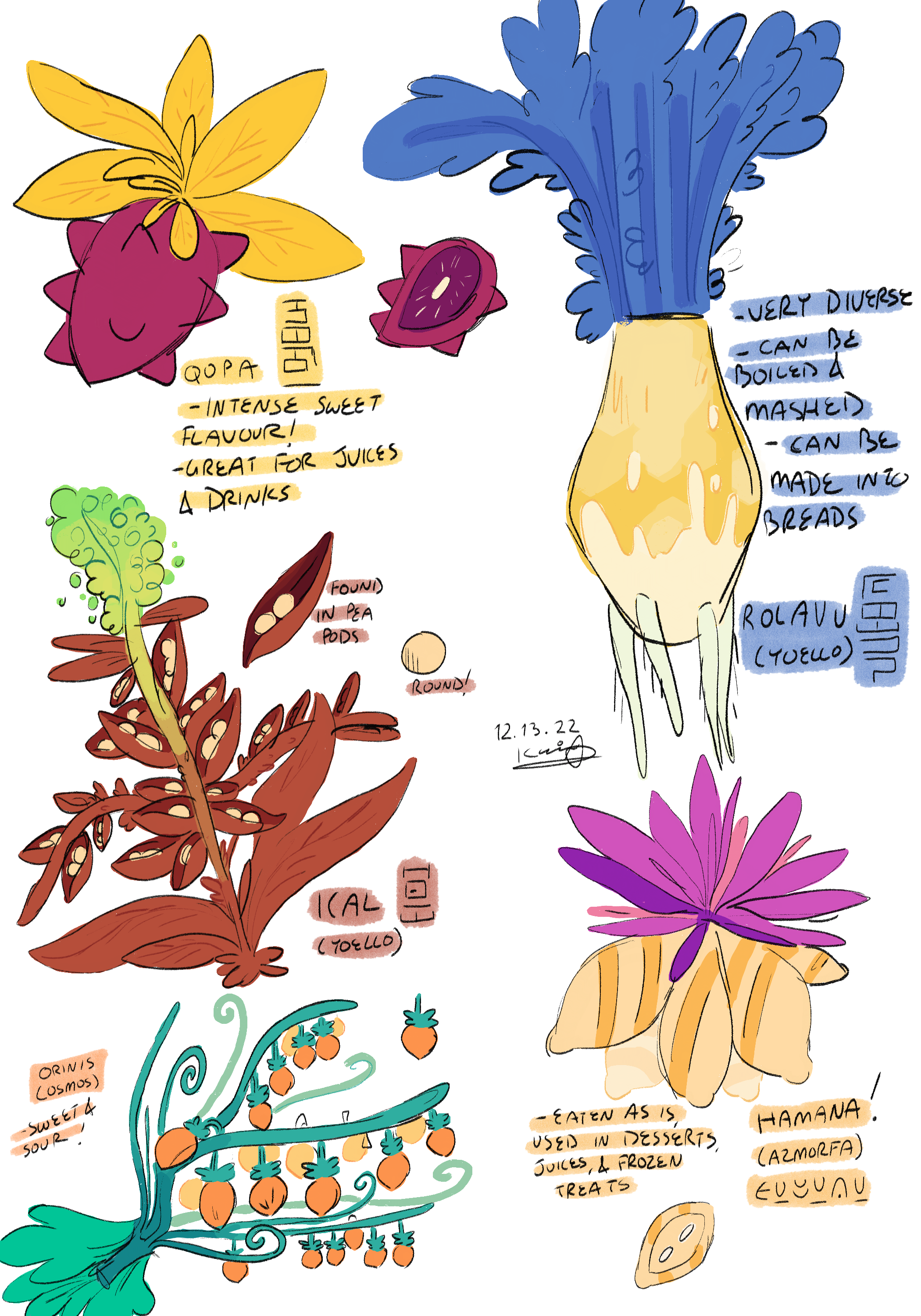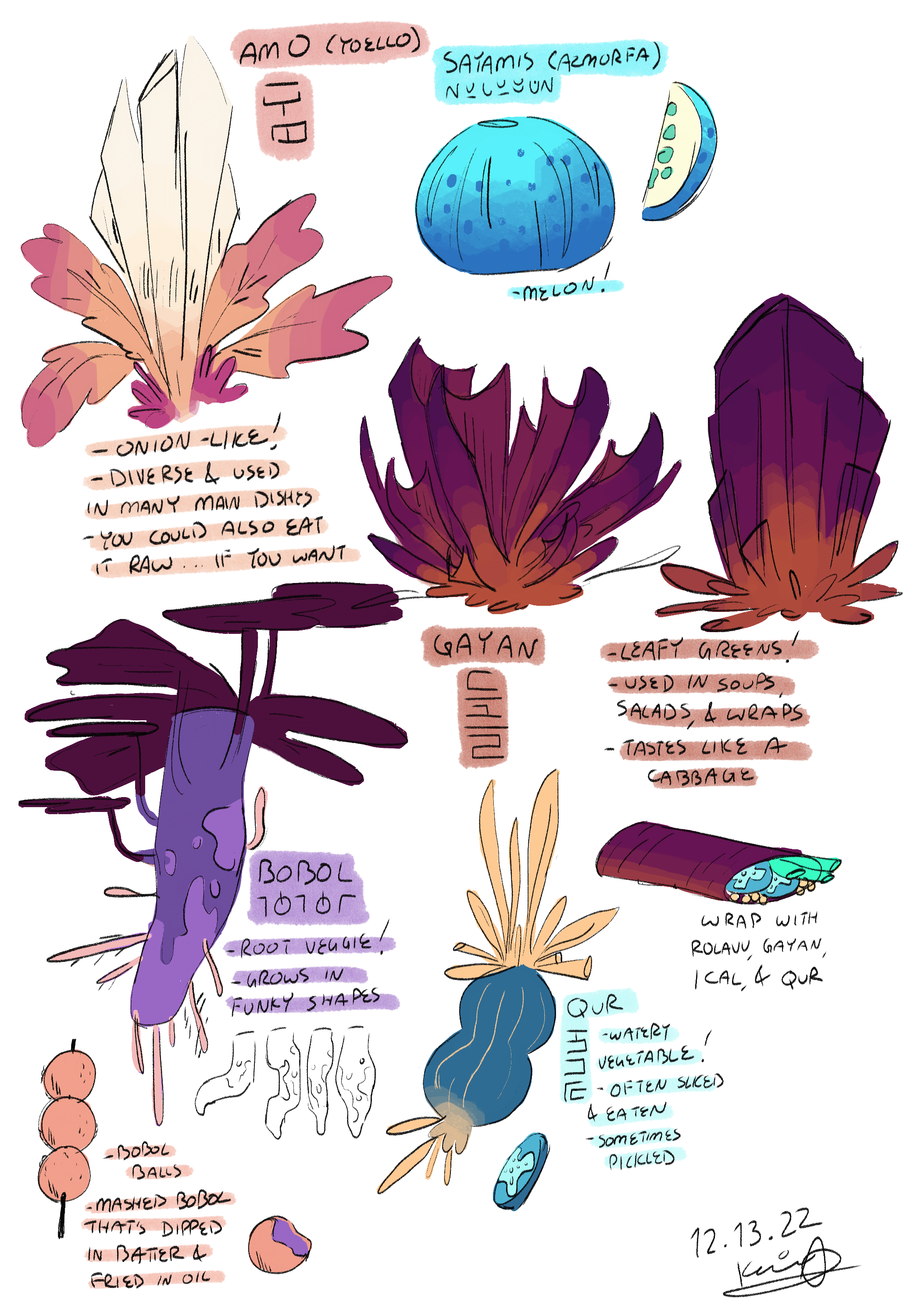 Can I interest you in some….alien fruits and vegetables? :]
Some of the fruits, vegetables, and dishes you can find on planets Azmorfa, Yoello, and Osmos! I'm gonna rewrite the info below the cut just in case it's hard to see!
For planet Yoello, there's Amo, Gayan, Qur, Qopa, Rolavu, and Ical!
Amo
Onion-like!
Diverse and used in many dishes
You can also eat it raw…if you want
Inspired by green onions and leeks!
Gayan
Leafy greens! (Or leafy reds?)
Used in soups, salads, and wraps
Tastes like a cabbage
Qur
Watery vegetable!
Often sliced and eaten as is
Sometimes pickled
These were inspired by cucumbers!
Qopa
Intense sweet flavour!
Great for juices and drinks
These were inspired by strawberries and dragonfruit! It tastes similar to a strawberry!
Rolavu
Very diverse!
Can be boiled, mashed, and made into breads, even!
Inspired by potatoes!
Ical
Inspired by chickpeas and green beans, takes most of its inspiration from chickpeas, though!
The plant is harvested and the pea sized Ical can be found inside the pea pods
--
For planet Azmorfa, there's Sayamis, Bobol, and Hamana!
Bobol
A root veggie that grows in funky shapes!
Bobol balls is Bobol that has been mashed, dipped in batter, and fried!
Inspired by sweet potatoes and ube yam!
Hamana
Eaten as is, used in desserts, juices and drinks, and frozen treats!
Inspired by mangoes!
And for planet Osmos, there's Orinis! They have a sweet and sour taste to them.
--
I had so much fun thinking of these and designing them too, can't wait to do more for other planets, and think of even more dishes. >]